Greetings, thanks for taking the time to stop by! I am going to show you how to make some excellent cinnamon candy. I guarantee if you follow the instructions here, this will be the best cinnamon hard candy you have ever tasted!


Also, try this link to learn how you can get free stuff just for clicking links CLICK HERE and get started with 1000 free miles!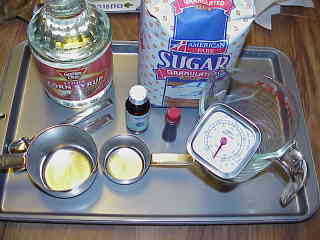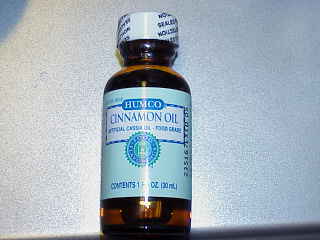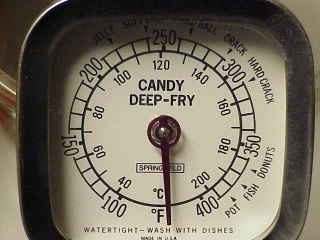 First you need to round up the simple ingredients.
2 2/3 cups Sugar
4 cups of light corn syrup
3 tsp. Cinnamon Oil - Also known as Cassia Oil
1/2 tsp. Red Food Coloring

You will also need some cooking utensils:

A good Candy Thermometer
Assorted Measuring Cups, Teaspoon Measures
Cooking Sheets
If you have a hard time finding the cinnamon oil, go to your local pharmacy. Most Pharmacists can order food grade cinnamon oil for you. The bottle shown in the picture above came from Eckerd Pharmacy.

Before we go much further, I want to warn you that cinnamon oil is very powerful stuff. Do NOT get it in your eyes! Do not taste it by itself. It will burn your mouth badly. Don't leave it where kids can get into it. It smells really really good and would be tempting for a small child to taste.

Combine the Sugar and Corn Syrup in a large pot. Heat on high until the mixture begins to boil. Reduce heat to medium high.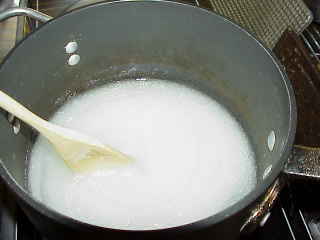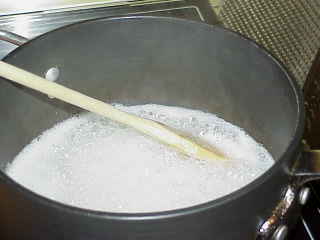 After the mixture begins to boil, The mixture will need to boil between 15-20 minutes to achieve the 'Crack Stage' 300-310. Check the temperature and stir frequently during cooking. The mixture will begin to turn a brownish color during cooking. This is okay. It is also okay if you smell a slight burnt sugar smell during the end of the cooking.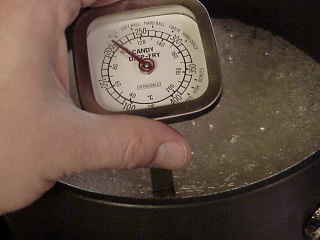 While you are waiting for your candy to cook, grease two non stick cookie sheets with Vegetable Oil.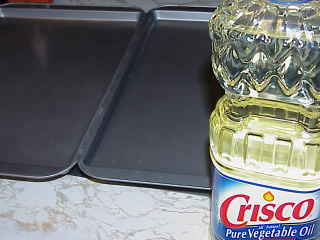 I like to remove the candy mixture from the heat right when the temperature gets to 310-311 degrees. It will be a brownish color when you remove it. After it stops bubbling and cools a few seconds, add 1/2 tsp. of red food coloring.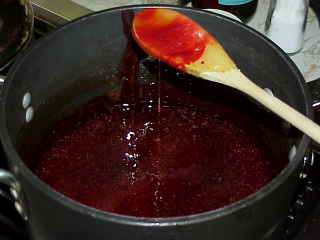 Allow the candy to cool some more and then add 2 1/2 - 3 tsp of the cinnamon oil.

I HIGHLY RECCOMEND YOU DO THIS STEP NEAR AN EXAUST FAN. DO NOT HOLD YOUR FACE NEAR THE CANDY WHEN YOU ADD THE CINNAMON OIL. IT IS VERY POTENT STUFF. SOME OF THE OIL WILL STEAM OFF AND IT WILL BURN YOUR EYES AND FACE IF YOU ARE TOO CLOSE.

Stir the candy well after adding the cinnamon flavoring. It is very important to get it distributed well through the candy.

Pour the candy out onto the greased cookie sheets. Be Careful. IT IS VERY VERY HOT and will burn you badly if you allow it to contact your skin. It is much HOTTER than boiling water. Use pot holders to handle the hot cooking pan.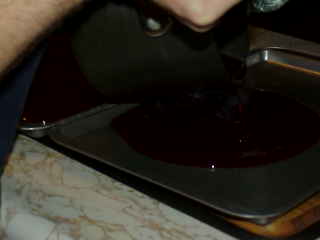 Allow the candy to harden for about 30mins to an hour and then you can break it up. Cover it with a sheet of wax paper when breaking. It will shatter and tiny little pieces will go everywhere if you dont cover it with something.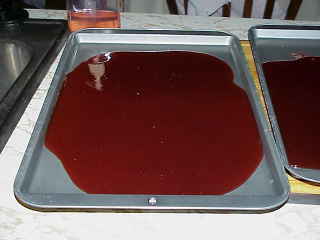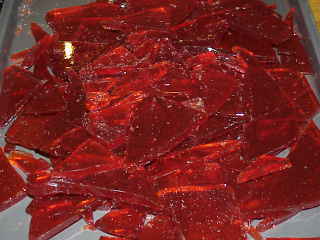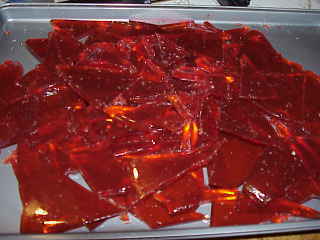 You will note that the edges and points on this candy are kind of sharp when you break it up. In order to avoid this, you can score it with a knife or use a ruler to make break lines in it while it is still warm. If you are serving it to small children, make sure you break off the sharp points before serving.

ENJOY!








FastCounter by bCentral